There is only one original Oil painting of HELL
by Dee Landerman

Price - One Million Dollars
$1,000,000.00
size 36" Wide X 24" High
One Million Dollars is todays price for this Original painting titled HELL by Artist/Author/Intuitive/Minister, Dee Landerman.
1981 HELL was originally painted by Delilah (Leisner) Nicholas, as inspired by the Holy Spirit of God. Her late husband posed for the figure whose legs, arms and hands are seen in the Right hand corner (looking at Painting). The first miracle experienced by Delilah was when the Lord spoke to her:
"Do you want to go to Hell just because your husband is heading that way?"
He was an abusive alcoholic. She Said no, and doing an about face, turned her life over to Jesus Christ. At that instant, God TOOK drinking away from her husband, he could not longer put a can of beer to his lips and she received no more beatings.
The demon was added to the painting In 1984, when Delilah awoke from a horrible night-mare of Hell. The Holy Spirit of God told her to "WARN THEM", that Hell is real. She took a photo of a bonfire the following evening to recreate flames on canvas, A demon appeared in the developed photograph as a confirmation to Gods instructions.

Over the following years, touch-ups were done. In 2008 HELL was entirely repainted by the artist.
There is still ONLY ONE ORIGINAL paining of HELL
...and THIS IS IT!
***************************************************
Large Glossy Postcard




5 ½" X 8 ½"




Great Ministry Tool & Warning.
20 for $15.
30 for $20.
50 for $25.
100 for $30.
FREE SHIPPING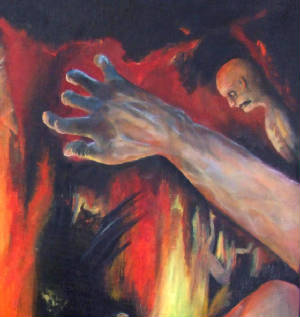 *****************************************
Dee's most well known painting is "HELL".

"My kids grew up with "HELL" hanging in the living room, my late husband posed for this.(right bottom corner)

He sat on the sofa, while i sat above on the sofa back".

Inspired from above, with the purpose to warn people that each of us have eternal life - the choice is ours as to where we spend it. The unforgiven will endure the flames of HELL for eternity, those forgiven by the blood of Jesus Christ will live in His glorious kingdom eternally.

This Oil painting is featured in the book:

"MOVE OVER MAHARISHI"

After the Lord spoke to Delilah

and told her to paint HELL paintings.

She took a photograph of a bonfire the following evening to see how to paint fire.

An actual demon appeared in the photograph!

the photo of the demon is also featured in the same book
and his ministers a flame of fire. Heb. 1;7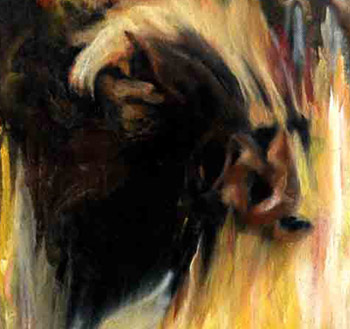 A captured demon in misery