Murals painted on canvas and shipped,
or, at your church with the assistance of one or two of your flock!
Great opportunity for artistic persons to learn mural painting!
"I can do all things through Christ who strengthens me."
***************************
BELOW
Finished Murals For Sale.
READY TO PUT IN YOUR CHURCH
Total price with NO hidden fee's.
Free shipping in USA.
Painted on double primed canvas & sealed.
******************
"Release of the Holy Spirit"
Sale price $795.
Ready to hang up!
***************************
Praying Hands - SALE $350.
Was $895.
Air-brushed on primed canvas with acrylic embellishment. *Has extra canvas all the way around for re-framing. The Hands shimmer with Heavenly rays of light when we pray in faith. **********************
Prayer Garden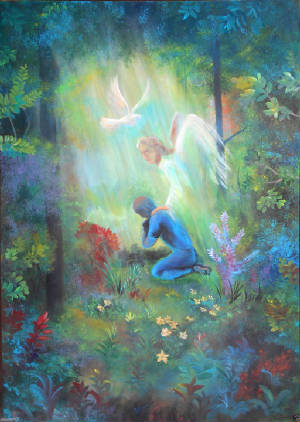 6 ft high X 4ft wide
"PRAYER GARDEN"
Sale - $199.
Painting/Mural
6 FT HIGH X 4 FT WIDE
* with extra canvas all the way around for re-framing.
A reminder that we're never alone.
Whenever we cry out to God in faith, He responds as we meet with the Lord in his secret place. Comforted by Heavens Angel, and White Dove flying overhead – symbolic of the Presence of His Holy Spirit.
The Mural will be removed from its frame because of size, and shipped rolled up.
It's a wrap-around Canvas, so you have the choice of putting it on another frame, or directly on the wall.
Actual Value $895.00
7' High X 4' 8 Wide
Sale - $450.
Was $695.
******************************
Contact Information:
HOME/Business Phone: 479 253-8264
Mural inquiries ONLY!
COST is determined by Size and detail in the mural. Scenery with a Dove will cost less than a mural with figures or hands: The price increases as more figures are added.
To order a Custom Painted mural on Canvas contact me with the SIZE & DESCRIPTION of what you want painted.
The total price has NO hidden fees - You can pay with check or M.O.
The Mural is started after payment is received. Finished mural will be emailed to you for critiquing and approval, usually within a week or two, depending on project.
Once you approve it - the mural will be sealed with a mini-wax, rolled up and shipped out the following week day.
Many churches have their mural up within two weeks of payment.


"A GOOD name is rather to be chosen than great riches, and loving favour rather than silver and gold." Proverbs 22:1

As a believer and follower of Jesus Christ, honest communication is important. Check my reference page for references, and feel free to ask for more names & numbers of pastors. If you send a check for the mural, it won't be cashed until the mural has been, painted, approved, sealed and shipped!